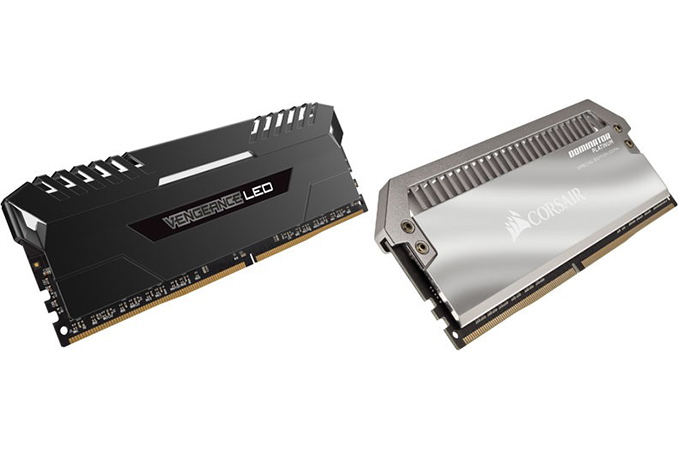 In the last 10 years, Corsair has greatly expanded its product lineup and nowadays it produces virtually the whole range of hardware and accessories for enthusiasts with the exception of motherboards, graphics cards, displays, and some exotics (like DIY liquid cooling kits). Nonetheless, memory modules reserve a special place in the company's product family. At Computex, Corsair introduced two new lineups of DRAM modules: the Vengeance LED and the Dominator Platinum Special Edition.
The Corsair Vengeance LED modules will bring new heatspreaders with red or white LEDs to the range of high-performance (yet, not top-of-the-range) memory solutions from the company. The modules will be based on Samsung's DDR4 DRAM chips and will work at up to 4333 Mbps data-rates. For now, Corsair does not disclose which of Samsung's DDR4 ICs it intends to use for the Vengeance LED modules, but in addition to the famous Samsung E 4 Gb chips (which are used for high-speed 4 GB DDR4-4000+ modules), it could use the company's 8 Gb DRAMs made using 20 nm or even the latest 8 Gb chips produced using 18 nm fabrication processes to build some of the new modules.
For those, who demand absolutely the fastest DIMMs, Corsair will offer the Dominator Platinum Special Edition modules with new aluminum heatspreaders featuring black brushed aluminum as well as chrome finishes. The Dominator Platinum SE will be aimed at various Intel processors as well as the X99 and 100-series platforms. The modules will be based on Samsung's "top bin" DDR4 DRAM chips as well as custom PCBs, but right now Corsair does not reveal any details regarding clock-rates or capacities.
Corsair intends to launch its Vengeance LED and Dominator Platinum Special Edition commercially in Q3. The company will disclose specs and prices of the new modules towards the launch.
Source: Corsair