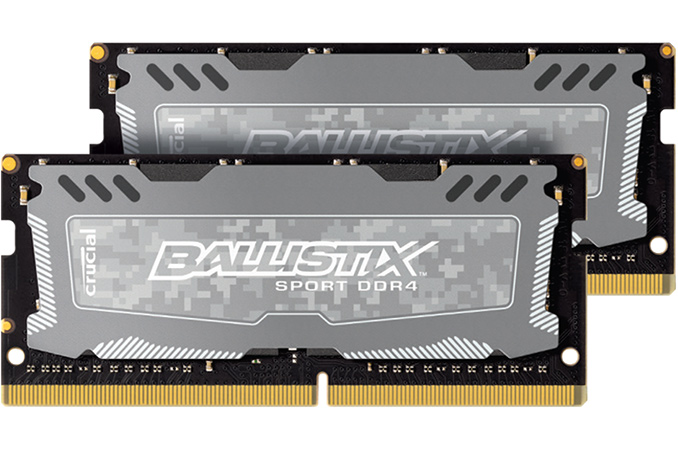 This week Crucial is introducing its first DDR4 SO-DIMMs for enthusiasts, designed for high-performance notebooks and small form-factor PCs. The Crucial Ballistix Sport LT PC4-19200 SO-DIMMs are available in 4 GB, 8 GB and 16 GB capacities and can operate at DDR4-2400 with 16 16-16 timings with 1.2 volts. The modules feature SPD with XMP 2.0 profiles for devices that support XMP.
PC makers focusing on Intel enthusiast mobile parts usually ship their computers with DDR4-2133 memory modules, as per the JEDEC standard and the supported standard on the chips, and provides a peak 34.1 GB/s bandwidth when operating in dual-channel mode. By contrast, a pair of DDR4-2400 SO-DIMMs enables 38.4 GB/s of bandwidth, or 12.6% higher, which could provide a noteworthy performance improvement in applications that demand memory bandwidth (e.g., graphics applications). At the same time, the binned 2400 MT/s data rate and 1.2 volts modules with additional heatsinks are geared to maintain temperature equilibrium similar to the base frequency modules. In short, it should be relatively safe to use such modules even in highly-integrated systems with moderate cooling.
Crucial Ballistix Sport LT DDR4 SODIMMs and Kits
Density
Speed
Latency
Part Number
Price
Price per GB
4 GB
DDR4-2400
16-16-16


1.2 V

BLS4G4S240FSD
$21.99
$5.4975
8 GB
BLS8G4S240FSD
$39.99
$4.9988
16 GB
BLS16G4S240FSD
$89.99
$5.6244
8 GB (2x4 GB)
BLS2K4G4S240FSD
$43.99
$5.4988
16 GB (2x8 GB)
BLS2K8G4S240FSD
$79.99
$4.9994
32 GB (2x16 GB)
BLS2K16G4S240FSD
$179.99
$5.6247
The prices of the dual module kits are slightly above buying two single modules, but that's for good reason: users who want more than one module and want guaranteed system compatibility between modules should buy a complete kit. This is because tertiary sub-timings on a multi-module kit are adjusted to compensate for having more than one module (or rather, a kit with fewer modules has tighter timings as it doesn't have as many modules to compensate for). When a user buys individual modules (or a couple of two-module kits rather than a four-module kit), there's no guarantee the memory will work together. Many users might not have issues putting modules together because there's enough wiggle room in the memory controller or the ICs to compensate, but plenty of problems can arise from this, especially when moving to faster speed kits. AnandTech has historically always recommended buying a full multi-module kit with the required capacity in one go, over buying separate modules/mini-kits over time.
The Ballistix Sport LT DDR4 SO-DIMMs will be available for purchase globally from retailers shortly and are currently available from the Crucial website. The modules are backed by a limited lifetime warranty (except Germany, where the warranty is valid for 10 years from the date of purchase).
Source: Crucial