AnandTech Storage Bench 2013
Our Storage Bench 2013 focuses on worst-case multitasking and IO consistency. Similar to our earlier Storage Benches, the test is still application trace based—we record all IO requests made to a test system and play them back on the drive we're testing and run statistical analysis on the drive's responses. There are 49.8 million IO operations in total with 1583.0GB of reads and 875.6GB of writes. I'm not including the full description of the test for better readability, so make sure to read our Storage Bench 2013 introduction for the full details.
AnandTech Storage Bench 2013 - The Destroyer
Workload
Description
Applications Used
Photo Sync/Editing
Import images, edit, export
Adobe Photoshop CS6, Adobe Lightroom 4, Dropbox
Gaming
Download/install games, play games
Steam, Deus Ex, Skyrim, Starcraft 2, BioShock Infinite
Virtualization
Run/manage VM, use general apps inside VM
VirtualBox
General Productivity
Browse the web, manage local email, copy files, encrypt/decrypt files, backup system, download content, virus/malware scan
Chrome, IE10, Outlook, Windows 8, AxCrypt, uTorrent, AdAware
Video Playback
Copy and watch movies
Windows 8
Application Development
Compile projects, check out code, download code samples
Visual Studio 2012
We are reporting two primary metrics with the Destroyer: average data rate in MB/s and average service time in microseconds. The former gives you an idea of the throughput of the drive during the time that it was running the test workload. This can be a very good indication of overall performance. What average data rate doesn't do a good job of is taking into account response time of very bursty (read: high queue depth) IO. By reporting average service time we heavily weigh latency for queued IOs. You'll note that this is a metric we've been reporting in our enterprise benchmarks for a while now. With the client tests maturing, the time was right for a little convergence.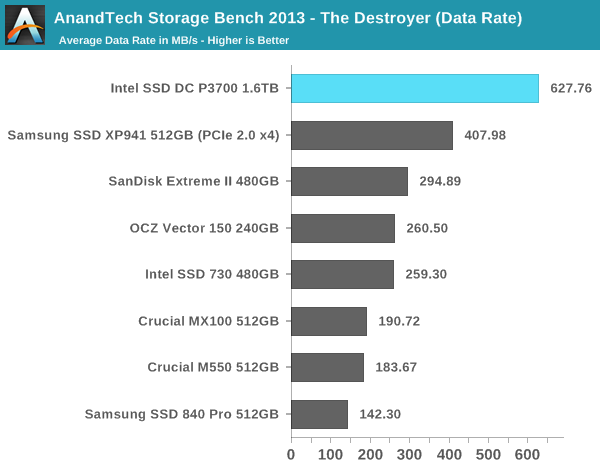 The P3700 takes the performance crown away from Samsung's XP941. Granted we are talking about a much larger and more expensive drive, but if you're after the absolute best performance for a workstation or high-end client, the P3700 is without equal.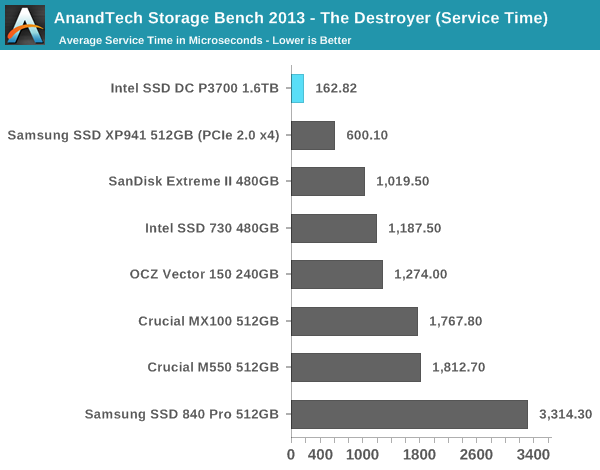 In our initial P3700 review we talked about the impact of NVMe and a lower overhead interface stack on IO latency - we see the benefits of that here in our look at average service times.
AnandTech Storage Bench 2011
Back in 2011 (which seems like so long ago now!), we introduced our AnandTech Storage Bench, a suite of benchmarks that took traces of real OS/application usage and played them back in a repeatable manner. The MOASB, officially called AnandTech Storage Bench 2011 - Heavy Workload, mainly focuses on peak IO performance and basic garbage collection routines. There is a lot of downloading and application installing that happens during the course of this test. Our thinking was that it's during application installs, file copies, downloading and multitasking with all of this that you can really notice performance differences between drives. The full description of the Heavy test can be found here, while the Light workload details are here.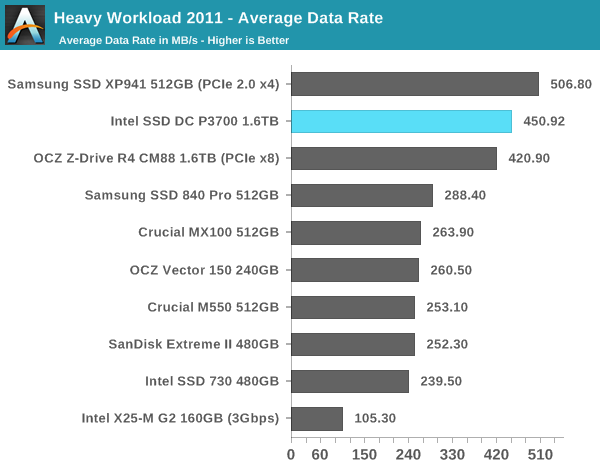 The XP941 remains the king in our 2011 heavy test. I was pretty surprised to find the P3700 lose its first place position here, but it's still competitive.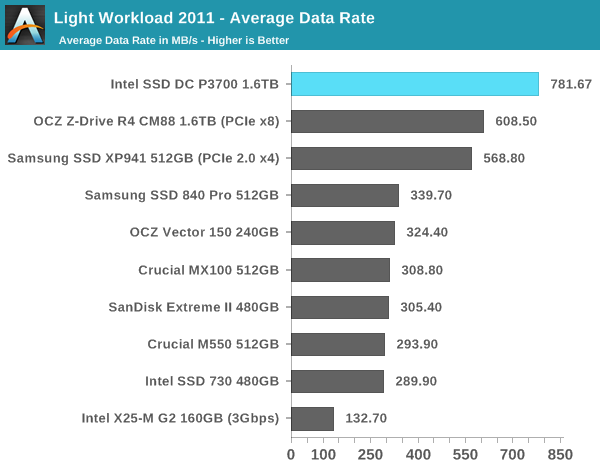 The situation reverses back to normal when we look at the light workload.