Design
Eurocom is leveraging the Clevo P775TM1-G laptop as their base chassis for the Sky X7C, and if you've ever had a chance to use a Clevo laptop before, it is certainly function over form in every respect. There's no fancy aluminum CNC chassis, but instead a big, bold, black plastic exterior, with no fancy graphics or lighting. Every dollar you pay goes into what is inside, rather than outside.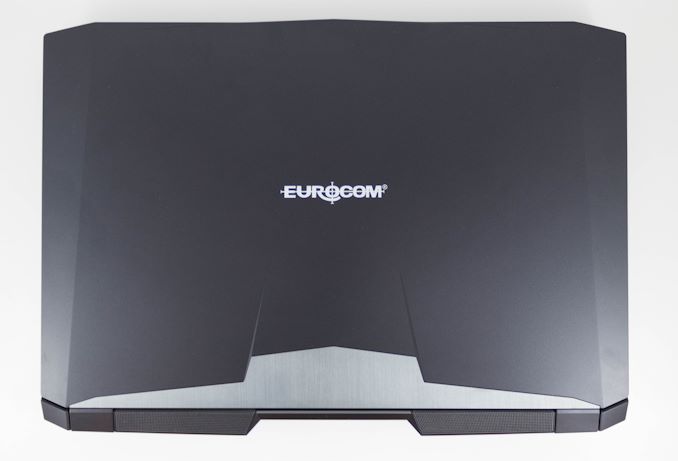 The Eurocom Sky X7C is a big laptop. It measures 40 mm / 1.6-inches thick and weighs in at a hefty 3.9 kg / 8.58 lbs. This is true desktop replacement territory, offering the size and weight to be able to handle the extra cooling that the desktop class components will require. As a DTR notebook, it's meant to be moved from desk to desk, rather than used on the go.
The no-nonsense black plastic continues when you lift the display open. This notebook doesn't offer the ultra-thin bezels you may expect on a smaller, lighter laptop, and the imposing size doesn't offer the modern look from some of the more expensive competition.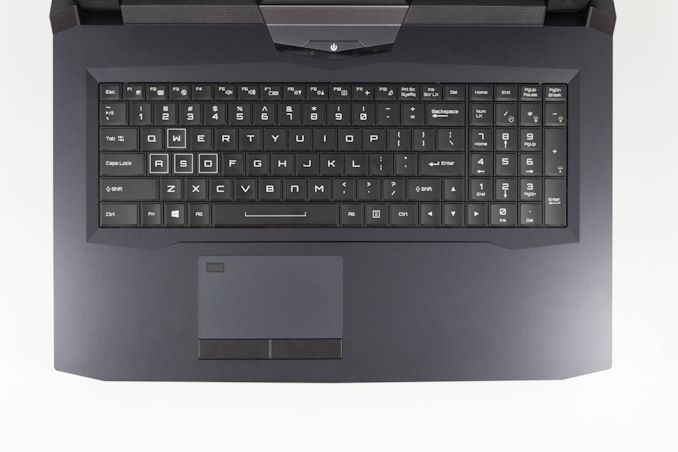 If you are familiar with Clevo keyboards, this is as standard as they come. Clevo offers a full keyboard plus number pad, and it offers reasonable key feel and throw. There's only three zones of RGB backlighting, rather than per-key like some of the competition, which limits the usefulness of the backlighting for anything other than being able to see in the dark. Per-key does offer some benefits to quickly find certain keys, or change the mapping based on application, whereas three zones, to me, looks a bit silly if all of the zones are not set to the same color.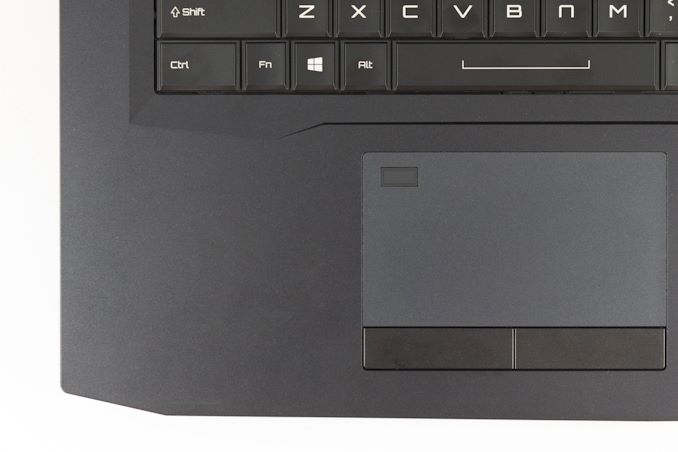 The trackpad offers the same no-nonsense approach, with a pretty average trackpad. There's no glass top for smoothness, but it is responsive enough and works well with multi-touch. There's also actual buttons located below the trackpad, which is beneficial for gaming if you don't have access to a mouse. Clevo also includes a fingerprint reader in the trackpad as an added convenience.
The sides of the laptop offer plenty of expansion ports, with four USB Type-A ports split across the right and left, and two USB Type-C ports on the left side. There's also a SD card reader and Ethernet on the left, and four 3.5 mm jacks for the audio on the right. If there's a small quibble here, it would be that the Ethernet cable should be located on the rear to make the cabling a bit cleaner if you do want to use wired Ethernet, where it would join the two DisplayPort outputs, the HDMI 2.0 port, and the massive 4-pin power connector.
Clevo laptops are function over form, which is really their charm, and allows them to offer more performance for less cost than most, if not all, of the competition. The design of the Eurocom Sky X7C is typical Clevo, but it still offers a reasonable keyboard and trackpad even if the overall fit, finish, and feel don't quite stack up with the sleek aluminum you'd normally see on a gaming laptop in this price range. There's plenty of expansion, and you could easily run this as a true desktop with a display, keyboard, and mouse connected with no fuss.