The Be Quiet! Dark Rock Pro 3
Be Quiet! is a German manufacturer of cooling, case and power PC-related products and one of the few European companies that has managed to push their way into the North American markets. We have checked a few of their power supplies in recent months and most recently saw their new cases and fans at Computex. For this review the company supplied us with the best and largest cooler they currently offer, the Dark Rock Pro 3.
The Dark Rock Pro 3 is supplied into a bizarrely shaped, deep cardboard box, well protected within thick layers of polyethylene foam and cardboard walls. A very basic black and white leaflet with installation instructions and the absolute necessary parts for the mounting of the cooler are supplied, nothing more, with the sole exception of two wire clips for those that want to install a third fan on the cooler.
Much as its name suggests, the Dark Rock Pro 3 is a very large, dark cooler. It is a symmetric dual tower design, meaning that the seven 6 mm heatpipes run through the base and to a separate cooling tower on either side. A metallic black top cover extends across the entire cooling body, covering both towers and the middle cooling fan but leaving the front fan exposed. With the exception of the black top cover, everything else is nickel-plated.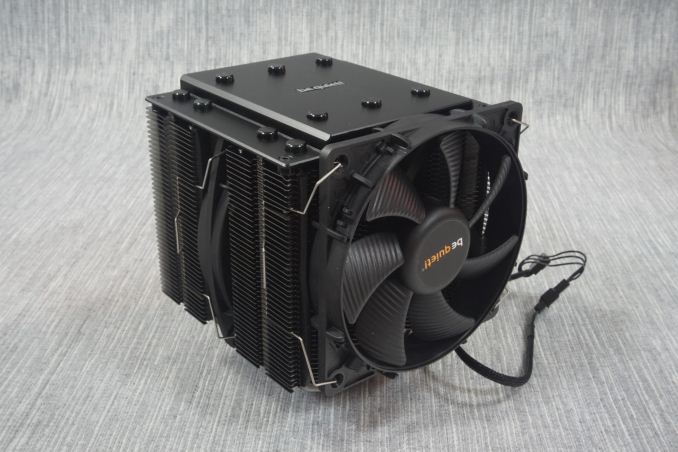 The front of each tower forms a jagged saw tooth design facing the fan that inclines inwards toward the center of the tower, while the rear forms a geometric pattern fashioned from half-octagons. The jagged front is supposed to reduce harsh airflow state transitions and aerodynamic noise, but the rear is most likely shaped for aesthetic purposes only.
The company is using their own SilentWings series fans on the Dark Rock Pro 3. The dimensions of each fan differs, with a 135 mm fan installed between the towers and an 120 mm fan at the front of the cooler. Still, both fans share the same features, such as the decoupling frames, wavy blades and six pole engines with fluid dynamic bearings. They are very high quality and expensive models, yet they are optimized for low noise operation, not high static pressure, which we will see the results of in the testing.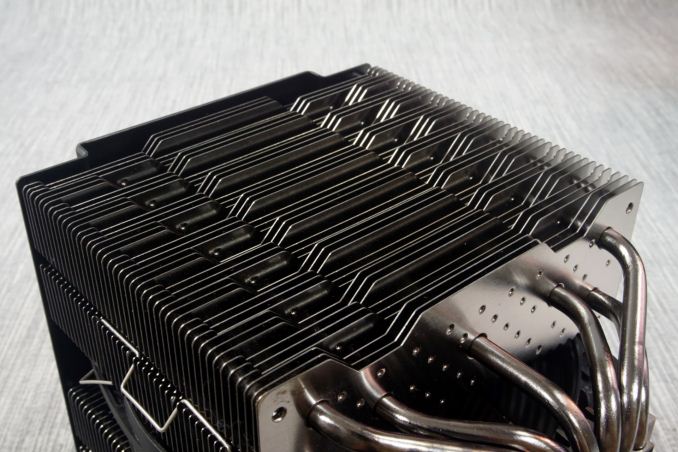 Be Quiet! paid a lot of attention to the base of the Dark Rock Pro 3. It is a very solid construct, forming a small heatsink, possibly to aid the overall performance of the cooler a little bit. The base has been polished to a perfect mirror finish, with no imperfections to be found.