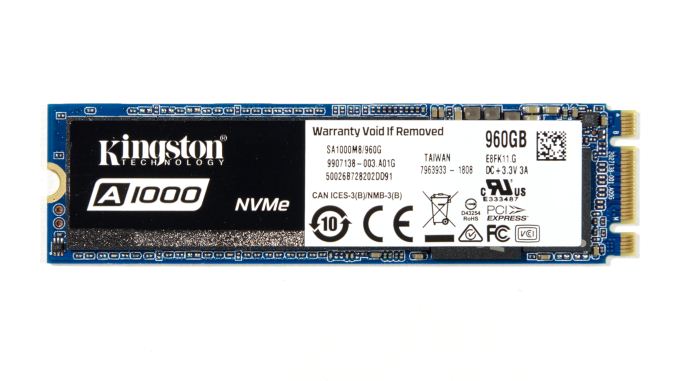 Kingston's A1000 is the company's first foray into the growing entry-level NVMe SSD market, and their second consumer NVMe SSD. The A1000 features Toshiba's latest 64-layer 3D TLC NAND flash memory and Phison's second-generation PS5008-E8 NVMe SSD controller. We've previously reviewed that same basic combination in the MyDigitalSSD SBX and found it to be the best drive yet for establishing the viability of the entry-level NVMe market segment.
Kingston brings a few potential advantages to the table that MyDigitalSSD doesn't offer. Kingston is one of the largest fabless memory companies, and they buy DRAM and NAND flash by the wafer. They can perform their own binning and packaging, which gives them extra flexibility in choosing what grade of memory goes into which product line. Kingston also has very close technical and financial relationships with both Phison and Toshiba Memory.
Even before running the benchmarks, there are several differences apparent between the Kingston A1000 and the MyDigitalSSD SBX. Both drives are clearly derived from the same reference design, but the A1000 seems to use an updated PCB layout with fewer unused pads for debugging (and a slightly different color). The A1000 also seems to feature a newer Kingston-specific firmware version, and it is configured to reserve a larger spare area than the SBX (hence the 480GB vs 512GB usable capacities). MyDigitalSSD and Kingston both give their E8 drives a 5-year warranty, but Kingston gives their drive a slightly lower write endurance rating and less optimistic performance specifications. Kingston is also not offering a 120GB-class capacity option with the A1000, instead starting the product line at 240GB.
Kingston A1000 Specifications
Capacity
240 GB
480 GB
960 GB
Model Number
SA1000M8/240G
SA1000M8/480G
SA1000M8/960G
Controller

Phison PS5008-E8

NAND Flash

Toshiba 256Gb 64-layer BiCS3 3D TLC

Form-Factor, Interface
M.2-2280, PCIe 3.0 x2, NVMe 1.3
Sequential Read
1500 MB/s
1500 MB/s
1500 MB/s
Sequential Write
800 MB/s
900 MB/s
1000 MB/s
Random Read IOPS
100k IOPS
100k IOPS
120k IOPS
Random Write IOPS
80k IOPS
90k IOPS
100k IOPS
Pseudo-SLC Caching
Supported
DRAM Buffer
Yes
TCG Opal Encryption
No
Warranty
5 years
MTBF
2,000,000 hours
Write Endurance
150 TB
0.3 DWPD
300 TB
0.3 DWPD
600 TB
0.3 DWPD
Price
$69.99 (29¢/GB)
$144.77 (30¢/GB)
$279.99 (29¢/GB)
The Phison PS5008-E8 controller is one of their two second-generation NVMe SSD controllers. Phison's first NVMe controller was the PS5007-E7, which was used primarily with Toshiba 15nm MLC NAND flash in consumer SSDs and a few enterprise SSDs. Phison's second generation consists of the E8 and E12 controllers, splitting the family into low-end and high-end parts. E8 hit the market first with drives shipping by the end of 2017, while the E12 controller is currently sampling with drive shipments expected later this year. (We received an engineering sample with the E12 controller last week, and will be reviewing it soon.).
The E8 controller features a PCIe 3 x2 host interface and has four NAND channels, so at first glance it seems clearly inferior to the earlier E7 controller that aspired to be high-end. However, the E8 is getting paired with much more advanced NAND than the planar MLC the E7 was used with, and the E8 controller features numerous architectural refinements over the E7, especially in its error correction capabilities. The end result is that drives using the E8 controller are able to offer a much more attractive balance of price and performance. The upcoming E12 controller should surpass the E7 in every way and we expect it to provide better performance and power efficiency than the E7 even when comparing E7+MLC against E12+TLC.
The Competition
MyDigitalSSD was first to market with their Phison E8 drive, and they set an aggressive pricing standard. With this product generation, Phison doesn't seem to have scored quite as many design wins, so we haven't seen the same flood of alternatives from Phison's usual turnkey SSD customers. The MyDigitalSSD SBX seems to be the closest competition for the Kingston A1000 in both price and technology.
Silicon Motion's low-end NVMe SSD controller for this generation is the SM2263, also available in the DRAMless SM2263XT variant. That latter controller has seen a few design wins in the retail market, most notably in the HP EX900. The SM2263(XT) features a PCIe x4 interface compared to the x2 interface used by the Phison E8, but the host interface is seldom the bottleneck for low-end NVMe SSDs.
Silicon Motion has been making more of an impact with their SM2262 high-end NVMe controller, which has proven to be a huge success compared to their disappointing first-generation SM2260 controller. The SM2262 is shipping in drives like the Intel 760p, HP EX920 and ADATA SX8200. Sale prices occasionally bring these drives down near the price level of the Kingston A1000.
This year, the high end of the NVMe SSD market is more competitive than ever before. Samsung still dominates with their premium MLC-based 970 PRO, but the more reasonable TLC-based 970 EVO faces stiff competition from both SM2262 drives and Western Digital's second-generation WD Black SSD.
There are also still some older cheaper NVMe SSDs on the market using 32L 3D NAND or even planar NAND. The Intel 600p and first-generation WD Black can't keep up with newer drives for performance, but they may still occasionally be found at low prices. The Patriot Hellfire and Team T-Force Cardea are Phison E7 drives with 15nm MLC, comparable to Kingston's existing KC1000 NVMe SSD.
In spite of the wide array of NVMe competitors now on the market, the most important competition for the Kingston A1000 still comes from SATA SSDs. It's relatively easy for a NVMe SSD priced like the A1000 to make an attractive value proposition in comparison to premium NVMe drives, but it's much harder for the A1000 to prove that it is a worthwhile upgrade from mainstream SATA SSDs that are much cheaper.
AnandTech 2018 Consumer SSD Testbed
CPU
Intel Xeon E3 1240 v5
Motherboard
ASRock Fatal1ty E3V5 Performance Gaming/OC
Chipset
Intel C232
Memory
4x 8GB G.SKILL Ripjaws DDR4-2400 CL15
Graphics
AMD Radeon HD 5450, 1920x1200@60Hz
Software
Windows 10 x64, version 1709
Linux kernel version 4.14, fio version 3.6
Spectre/Meltdown microcode and OS patches current as of May 2018